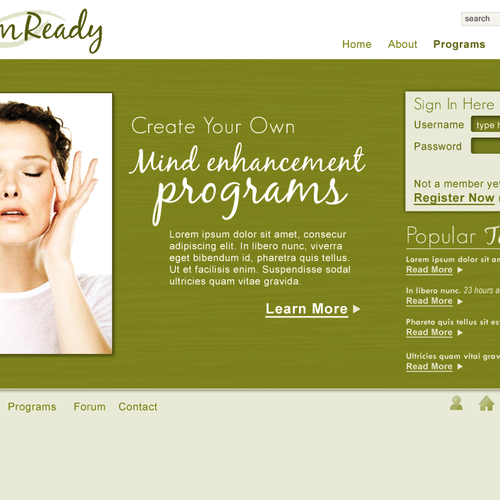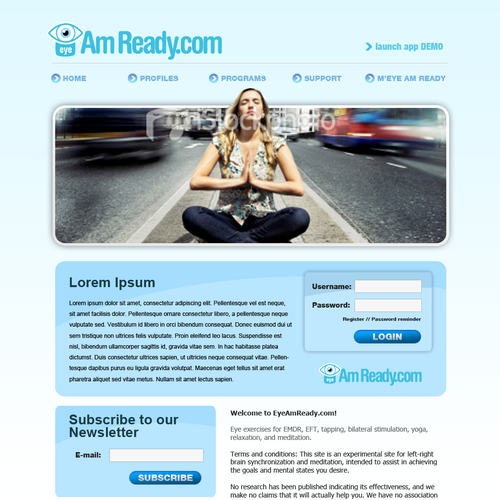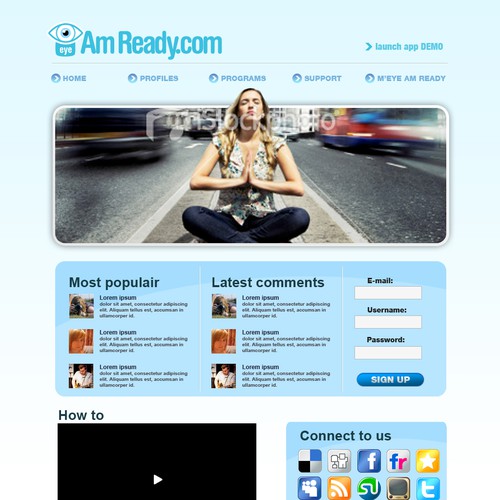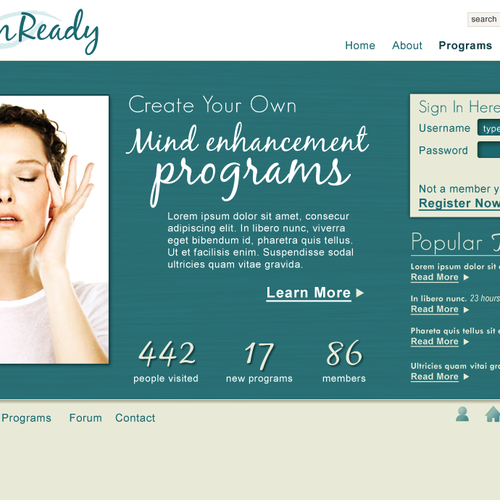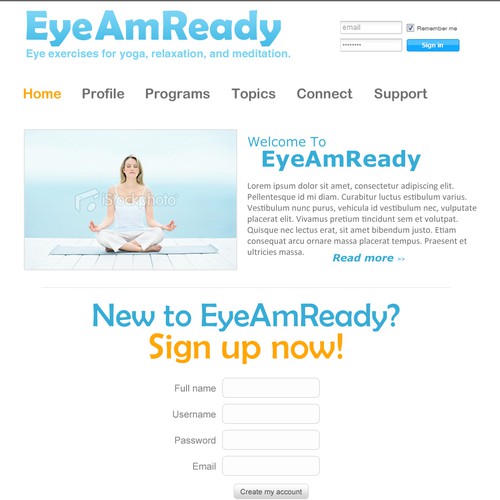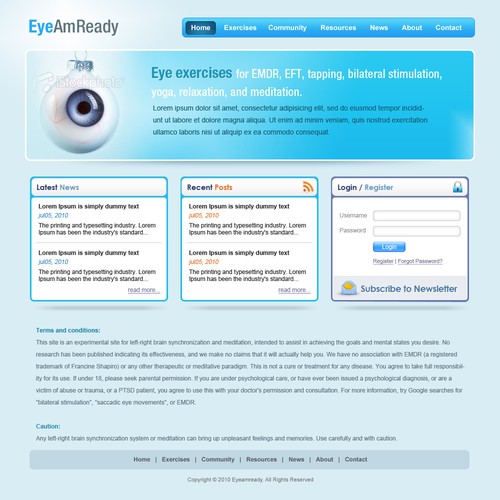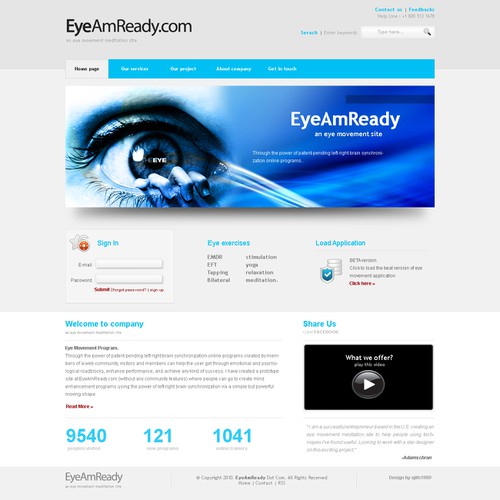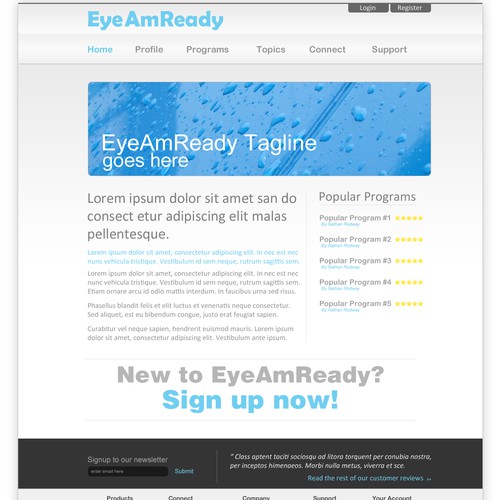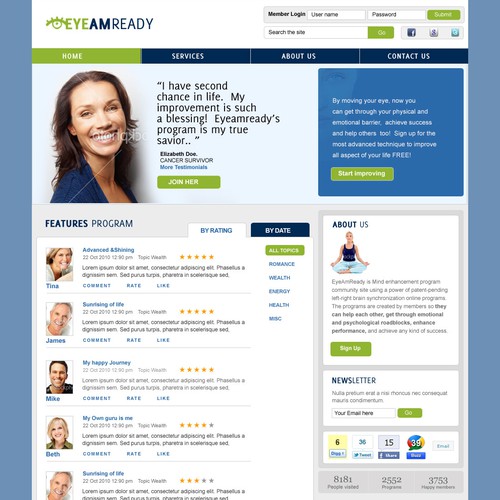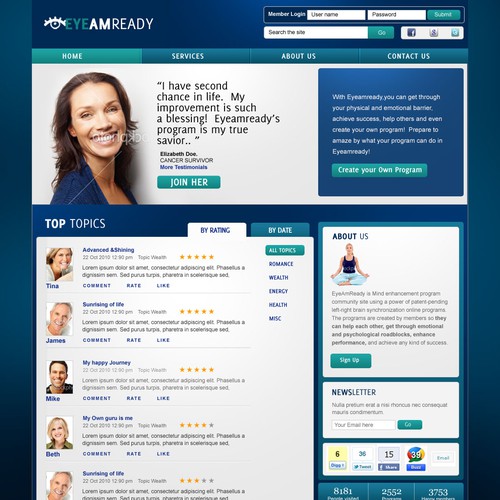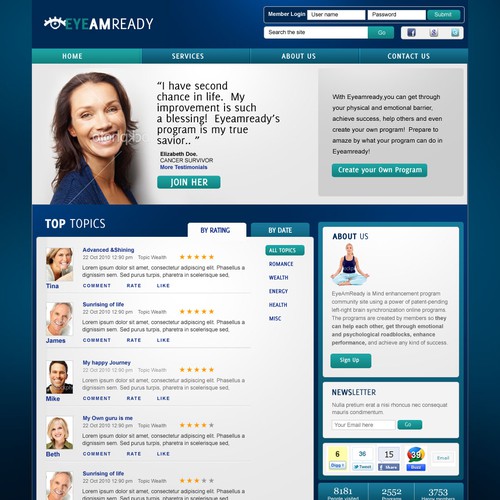 One of the designers who made it happen
Winner - thislooksgreat
- Anonymous
How Adamschran started their web page design journey
Overview
I am a successful entrepreneur based in the U.S. creating an eye movement meditation site to help people using techniques I've found useful. Looking to work with a star designer on this exciting project.
Tell us a bit about who you are and the people you reach
People who are serious about and enjoy improving their lives.
Requirements
Creative Brief: Mind enhancement program community site. Through the power of patent-pending left-right brain synchronization online programs created by members of a web community, visitors and members can help the user get through emotional and psychological roadblocks, enhance performance, and achieve any kind of success. I have created a prototype site at EyeAmReady.com (without any community features) where people can go to create mind enhancement programs using the power of left-right brain synchronization via a simple but powerful moving shape. The idea for version 2.0 of this site is to enhance the prototype site with a better design and presentation, and create a social community around it, so anyone can go there, sign in, and create an eye exercise program. These programs really do work to help people get to the next level in some aspect of their life. Visitors and members can also use and comment on other's programs for free, but signin is required to create a new program. In the program itself (as shown on the eyeamready.com prototype), different types of shapes, speeds, paths, etc can enhance different aspects of a person's life such as romance, wealthbuilding, business, dealing with stuff from the past, and that sort of thing.
Page descriptions
I would like a design that makes it easy for people to understand the concept, create their program, or view and use someone else's program. As for social media features, I would like people to be able to "star" or "like" their own programs and others' programs, and add comments on each other's programs, and feature the most popular programs by top topics on the home page, with a link to "more topics" of life enhancement for people who want to access programs that have had good results for other topics. (Similar to twitter's "trending topics"). EyeAmReady.com is just a temporary name, so even better if you can suggest a new name to work off of that's available for the site, and what to call the "program" itself that people create.
Pages needing development include (1) the home page, (2) what the user sees when they're signed in, and (3) the user page as viewable by the public (showing their programs). Also (4) the program page and perhaps (5) a complete "topics" page. Design and language should be clean, friendly, and market the concept well to get signups and usage. The program page can work off of the existing prototype but should include a "share bar" that can be used to share the program on twitter and facebook, let the user title their program, and that sort of thing that's not in the prototype right now that's at eyeamready.com.
Existing website
bare bones prototype site is on eyeamready.com
Example websites
Look to the most successful community sites such as facebook, twitter, etc. for inspiration. Perhaps the design could be a bit more welcoming and friendly than those sites without being "overdesigned", similar to what's showcased on the 99designs home page.
Paid features
Featured listing

Twitter promotion
Free features
Open contest

Guaranteed

Fast-tracked
We've found some similar contests you might like